Solving Various Pest Problems In Adelaide: Get Certified Experts Today
Are you having a pest problem? Here at Preventive Pest Control, we provide pest control Adelaide services for rodents, moths, fleas, flies, cockroaches, spiders and many other pests and insects. More importantly, we have eco-friendly solutions and state-of-the-art pest control equipment to use that are famous for getting superb pest control results.
Which pest is troubling you? Even if you do not know the answer to this but have doubts about pest infestations in your house, then we can help you in the best way. We can inspect your house and property to find the pest species and areas being affected by them. We can also help you by providing emergency and same-day pest control services at affordable prices.
Pest Inspection: To avoid huge damages and losses, frequent pest inspections are crucial. Call us to keep pests and insects at bay from always raiding your property.
Pest Treatments: Pests make their homes in dark areas and disused nooks for growing safely. Our pest treatments target all such areas to make your house and property pest-free.
Pest Prevention: We do the treatments accordingly and provide pest prevention tips that are crucial for keeping your property pest-free for a long time.
So you can call us for quick and long-lasting Pest Control Treatments in Adelaide and its suburbs.
Effective Pest Inspection, Control And Removal Services- Now In Adelaide
Preventive Pest Control is Adelaide's leading company that takes never-ending pest control online bookings that goes on public offs and weekends as well. Having been for years in the pest control Adelaide industry, we are a responsible firm that provides control services for moths, silverfishes, fleas, bed bugs, rodents, cockroaches and more. In fact, we have successfully served thousands of Adelaide residents that can be referrals to the new residential pest control service clients.

Moreover, we take pride in offering affordable pest control even when a client comes to us for availing emergency and same-day services. We also became a noteworthy company in Adelaide that does eco-friendly pest control that is both safe and hygienic. But if there comes the need for only effective pre-purchase inspection, we charge separate pest inspection costs. To know more about us and our services, call on 0488 851 508.
What Action Do We Make In Order For A Pest-Free Area?
From inspecting the pest-infested area to letting you know some useful information on pest prevention tips, we do everything without exception. Therefore, look at our course of action and know how we make a pest-free area.
Inspection Of The Area- As possum-bourne and many other diseases are common, we prevent them by doing a thorough area inspection. During this area inspection, we make sure to inspect the infested place from the very bottom attic to the top terrace.
Fumigation Or Fogging- In order to control or remove pests such as flies, termites, etc, we fumigate the property. This process of fumigation or fogging of an infested area gets rid of unwanted pests on a large scale.
Pesticides Spray- When spraying pesticides, we make the products we are using pet-friendly pet control solutions or not. Because for pets having fleas, sprays are to be used and we do both cat flea and dog flea control.
Heat Treatment- For most of the pests that hide in damp, cool, dark and hidden areas, we do heat treatment. This pest control treatment is environmentally friendly but removes even pest eggs and larvae.
Use Of Baits And Repellents- A few effective pest control methods are to set up repellants and use baits (gels, liquids and solids). Be it the use of baits or repellants, we place them in areas where pests are frequent for effective pest removal.
Dead Pest Removal- Not just live pests but also dead ones cause and spread diseases and hence we offer dead pest removal services too. Some of our dead pest removal services are for pests like possums, wasps, bees, birds, etc
Possum Box Installation- To safely catch possums and leave them 50m from the invaded property, we install possum boxes. In fact, possum boxes are installed in order to attract possums and not enter the indoors of a property.
Pest Prevention Tips- Also, we suggest you a few pest prevention tips so as to not let pests enter your home. Our pest control Adelaide team is certified and certainly knows everything about different pest prevention tips.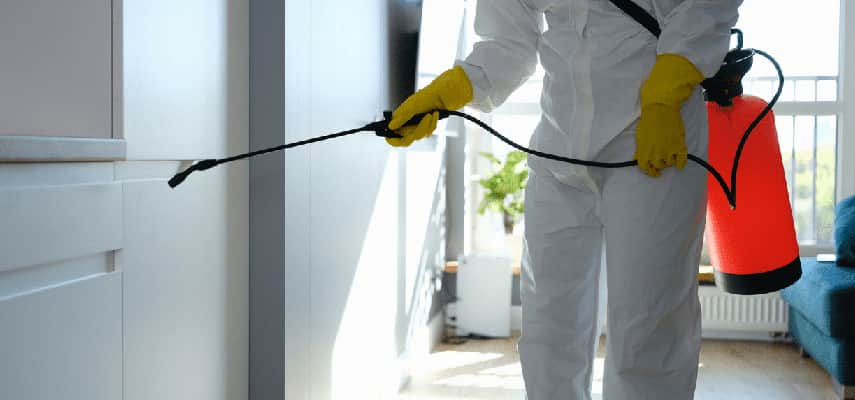 We Provide Pest Control Services Despite The Pest Size In Adelaide Homes
In order not just to provide eco-friendly but also kid-friendly and pet-friendly pest control services, we strive hard and coordinate together as a team. In fact, we are famous for our use of advanced technology in doing pest control Adelaide treatments like the following:
Cockroach Control
Whenever you find cockroaches flying around you, are you scared away? No more of this. Call us for cockroach pest control services right away and make your place a roaches-free environment in no time.
Possum Removal
Is grumbling, screeching, growling, grunting, chattering and hissing noises coming from possums disturbing your sleep at night? Stop those noises today with our pest control Adelaide team's aid. We do the best and most effective residential pest control service for possums and their babies.
Moth Control
By finding holes in clothes and webbing on food package edges, you confirmed the infestations in your homes as moths? Notify us. Get in touch with our local pest control experts to avail of advanced moth control service now in Adelaide.
Flea Control
If you find a swollen lump that is pinkish and that in turn forms into a blister in the next 2 days, then call us to grab prompt flea control service. Our pest exterminators follow a professional pest control program when we are doing different types of flea control.
Bed Bug Control
If you find bed bugs in your mattress, do not leave them be as they are known for their action of sucking up your blood to feed themselves. So, make it your mission to book us today for a bed bug eco-friendly pest control service.
Ant Control
Are your kids complaining about the bites they are getting from fire ants? Be worry-free and hire our regional experts from Adelaide. Our Adelaide team of experts also provides emergency pest control if you want to control ants or any of its other species.
Spider Control
Contact our team for spider pest control treatment if you detect spider movements or find spider webs on the ceiling corners. We specialise in controlling redback spiders, white-tailed spiders, black house spiders, wolf spiders and so on and so forth.
Rodent Control
Urine trails, droppings and smells from rodents can lead to serious diseases like salmonella, hantavirus, tularemia and other property damages. However, you can put a full stop to all these with our services for rodent control. Contact us today to know our rodent pest control prices.
Flies Control
Flies are one of the pest types that are found everywhere in your place like the living room, kitchen, bedroom, bathroom, attic, backyard, etc. So, take action against them with our professional but non-toxic pest control services for flies control.
Bee And Wasp Removal
Once bees and wasps find your place suitable to build their nest, then you cannot remove their hives and perch on your own. Hence, count on our low bee and wasp pest control cost team to get pocket-saving, on-time and effective services.
Know What Kind Of Special Services We Offer
When you make the right choice of availing professional pest control services, count on our pest controllers. Our pest control Adelaide team works to provide both regular or every service as well as emergency services.
Emergency And Same-Day Pest Control
If your home is already under complete control of pests, then book our emergency pest control or same-day pest control service. Be it protected pests like possums or ecologically helpful bees, we remove them with ease.
End Of Lease Pest Control
Make your last day in the rental house a carefree day with our end-of-lease pest control treatment. In fact, you can also get in touch with us to know about our end-of-lease pest control cost.
Large Area Pest Infestation Treatment
Cockroaches, flies, spiders, rodents and more of other pests infest a home on a larger scale. Hence, our residential pest control team decides to do a large area pest infestation treatment to solve those pest problems.
Eco-Friendly Pest Treatment
To not kill legally protected pests like possums, we do eco-friendly pest control treatment despite the severity of the infestation. Also, once we catch possums, we leave them in a terrestrial area 50m away from the infested property.
Our Special Possum Treatment Includes Inspection, Catching And Relocation
By using the best possum detectors, we do a thorough inspection of the area we go to for possum pest control treatment. While inspecting the area, we also find possible habitats of possums around your place. Moreover, we also tell you about the possible risks possums can cause.
After the findings we get from the inspection, we then proceed with the treatment plan. In fact, after inspection, our pest control Adelaide team tells you what kind of treatment will adopt and takes the client's consent. Once consent is taken, we give you a follow-up on the timeline of treatment.
For property that is already infested with possums, our possum catchers and trappers do a quick job. However, if you want to prevent possums from entering your place, we install possum boxes. These possum boxes will be installed on trees with one side opening for possums to enter.
How Are We Different In The Pest Control Service Industry?
We, as a pest control Adelaide company, have already been different in this industry and never compare ourselves with others. In fact, we are one of a kind because of the following reasons:
Well-Timed Services: We are both experienced and specialised in pest control services and hence provide well-timed services. Moreover, with our local pest control team near you, we reach your place in 1 hour.
Advanced Technology: With decades and years moving forward, we also updated ourselves to follow advanced technology. This goes for the use of eco-friendly pest control solutions too from famous brands.
24/7/365 Day Appointments: Regardless of day or night, weekday or week off, we take 24/7/365 day appointments for residential pest control service. In fact, other than service bookings, we take appointments for pre-purchase inspection too.
Multiple Affordable Services: When on completion of area inspection, if more than one pest is found, we offer multiple affordable pest control services. This multiple affordable service is something like all in one.
Obligation-Free Quote: Also, our pet-friendly pest control service is at the end supported with an obligation-free quote. For this obligation-free quote, you can also call us directly and avail of it that way.
As We Use Eco-Friendly Solutions, Health Assurance For Pest Control Services Is A Given
In Adelaide, we provide eco-friendly pest control services in order to protect you from exposure to harmful chemicals and keep you healthy. Also, whatever pest control solutions we use, they are made of safe and green innards and these are extremely safe for kids as well. In addition to this, we also utilise pet-friendly pest control solutions as they are safe for adult pets and their younglings. Moreover, your health is in safe hands as our pest control treatment leaves no potential residues behind. So, count on our pest control Adelaide services!
Local Pest Controllers Are Always Available For Adelaide Residents
With our pest control Adelaide team being a local one, we know which pests are native ones and which are not once we do a thorough inspection. Once we identify the past type that invaded your property, we use only those non-toxic pest control solutions that effectively remove Adelaide pests. Also, we use the latest and state-of-the-art equipment when we do residential pest control in Adelaide. Therefore, grab our assistance today if you are looking for pest control near me in Adelaide.
Why Choose Pest Experts From Preventive Pest Control In Adelaide?
Pest species are highly harmful to humans and their property and our experts have taken the responsibility to let people in Adelaide feel safe to date we are available in the Adelaide pest control industry. As a result, we make sure to use advanced methods and certified pesticides to do pest control services in Adelaide. Our other facilities include:
24/7 bookings are available
Free quotes with no hidden charges
Kid and pet-friendly pest control methods
Easy payment options
Prompt pre-purchase inspection and control service
Local pest experts are available for serving in Adelaide suburbs
Same-day and emergency pest control services
FAQs
What can I do to naturally get rid of ants?
You can naturally remove ants by spraying/keeping any of the following repellants in frequent areas of ants: 
1) Vinegar
2) Lemon juice
3) Cinnamon
4) Mint and 
5) Black pepper.
Do your pest exterminators have a license?
Yes, our pest exterminators do have licenses and additionally also carry top institutional certificates.
What happens if I do not avail of professional bee removal service on time?
In absence of professional pest control for bees, you will be under constant threat of stings and unnecessary attacks from bees. In fact, bees will also attack your pets.
What are a few common possums that invade Adelaide's homes?
Possums that usually invade Adelaide homes are common brushtail possums and common ringtail possums.
Can you suggest a few prevention tips for bed bug control?
To control bed bugs, follow the below-mentioned prevention tips: 
1) Encase the mattress
2) Reduce the clutter in bedrooms
3) Frequently vacuum bed bug-hidden places
4) Use natural repellents, etc.